About Vinyl Plank Flooring
West Point Carpet One Floor & Home in Greeley, CO has what you need when it comes to luxury vinyl flooring. Luxury vinyl planks are the perfect choice when it comes to wanting the best of both worlds. Luxury vinyl planks combine the natural and authentic looks of hardwood with the durability and resilience of luxury vinyl.
Luxury vinyl is known as a budget friendly option compared to hardwood, while still achieving the aesthetic appeal you are looking for. You can choose from an assortment of styles that can mimic details all the way to the grain. There are several benefits to owning and installing luxury vinyl in your home.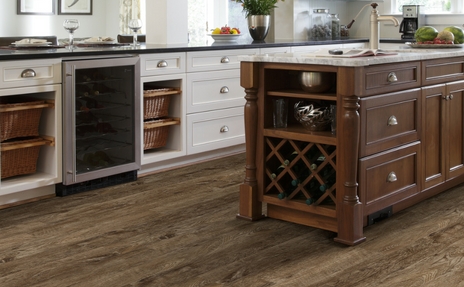 Water Resistant and Waterproof Vinyl Plank
Unlike hardwood, luxury vinyl will not absorb moisture or water right away, taking away the worry of moisture damaging your floors. Not all luxury vinyl planks are waterproof, but the ones that are allow you to have wood look options anywhere in your home. Achieve the look of hardwood in your bathroom or laundry room where you couldn't have hardwood before.
Take a look at our Invincible H2O luxury vinyl flooring. It's our Carpet One exclusive 100% waterproof flooring option that can be installed anywhere in your home. This tough as nails flooring option is perfect for homes with children and pets.
Dirt and shoes will no longer be a major threat to the surface of your floors because luxury vinyl planks feature a wear layer that resists scuffs and scratches. Your pet's claws are no longer a threat either on your wood look floors.
Vinyl Plank Installation and Maintenance
Many luxury vinyl plank options allow you to install them directly over any subfloors. Some types of luxury vinyl can actually be placed over existing flooring as well. You can choose the traditional glue down installation, which is relatively permanent. There is also an option called a floating installation system, where the planks lock together. If you're not looking to put a lot of effort into cleaning your floors, then luxury vinyl is a good option for you because it only requires regular maintenance such as sweeping and occasional mopping.
If you'd like to learn more about luxury vinyl plank flooring, visit our showroom and speak with one of our flooring professionals. Also, be sure to visit our luxury vinyl flooring brands page to see which vinyl plank options we have on display.